The latest edition of this high-profile celebration of automotive progress and achievement was held under the general theme of "Compete! And shape a new future." Traveling to Tokyo to showcase their products and technologies were 178 companies (representing 181 brands) from a total of 12 countries. Motorcycles were well represented as well, with all four JAMA member manufacturers (Kawasaki, Honda, Suzuki and Yamaha) and BMW, KTM sponsoring booths to acquaint visitors with the latest advances in the field.
Honda
The Honda booth theme was "Live outside the Box" – a statement of the company's pursuit of innovative thinking and creativity unshackled by precedent or conventional wisdom. The spirit behind this concept was vividly manifested in the Dunk – a new style 50cc scooter engineered for utility and convenience above and beyond the conventional image of products in this category.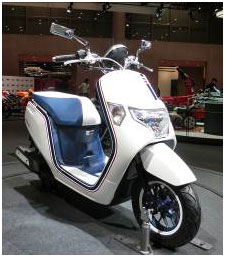 Though compact in size, the Dunk is tooled for comfort and structural ease that allows riders to sit up straight in the seat while motoring. The scooter is also equipped with generous luggage space, smartphone compatible charging socket, an instrument panel complete with clock and other touches underscoring the ongoing Honda quest for uncompromising usability within the realm of trendy new design.
Honda displayed a total of 33 models at the Show (3 making their world premieres and 16 appearing for the first time in Japan). According to booth presenters, visitors showed the greatest interest in the Dunk (scheduled to be marketed this year). Also attracting attention was the Goldwing F6C, a cruiser model appealing for the power, smooth running and dynamic deep-throated purr of its 6-cylinder boxer engine, the CTX1300, sporting a unique presence stemming from its transversely mounted V4 engine and exhaust pipes and other offerings.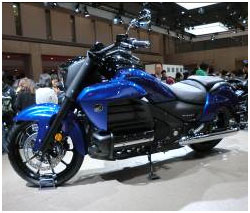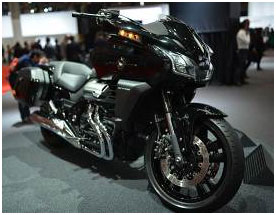 Kawasaki
In the words of one Kawasaki booth presenter: "Our feeling is that the interests of visitors to the Kawasaki booth differ from those dropping by the booths of other companies." Kawasaki used the show to unveil a total of nine models (among them 3 world and 2 Japan premieres), placing the key focus on the Ninja Series (a distinctive state-of-the-art sports motorbike) and the Z Series (realizing a fine balance between pioneering style and dynamic road performance). The general impression was that visitors were particularly attracted to what many described as the "aggressive riding" promise of Kawasaki products.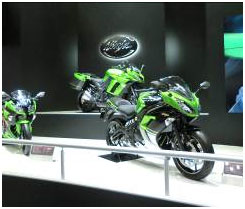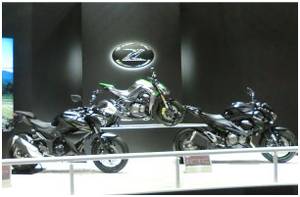 Presenters further noted that booth visitors displayed the highest interest in the "J" – a 3-wheel electric powered vehicle exhibited by Kawasaki as a concept model. They used a battery control technology which already commercialized by Kawasaki for use on electric trams. The unit is being positioned as a motorcycle for the near future, highlighted by an adjustable body for enjoyment of both sporty riding in a forward-leaning position and city riding in more relaxed postures.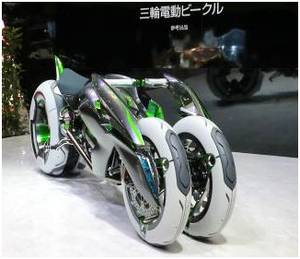 Suzuki
The Suzuki exhibit theme was "Let's Create a Brand New Story." As that catchphrase suggests, the booth offered visitors encounters with a remarkable lineup of 12 exciting new models (including 3 world and 4 Japan premieres). They included the Recursion, a lovely roadster model styled in the image of traditional craftwork and delivering liter-class performance with its combination of a 600cc engine and intercooler turbo on a compact body (weighing in at a mere 174 kilograms). Other attention grabbers included the Hayabusa (a model enrapturing riders around the world on the strength of incredible performance), the Extrigger (a compact electric motorbike designed for use in normal everyday routines or outdoor leisure) and other captivating creations.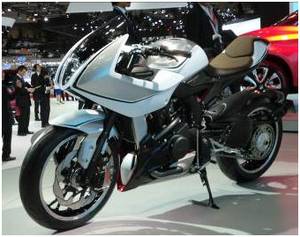 Suzuki booth presenters reported that visitors directed the greatest degree of attention to the Bugman 200, a member of the mini-size motorcycle (126~250cc) class that enjoys high popularity in Japan, and the V-Strom 650 ABS adventure-touring model. With both motorcycles slated to hit the market soon, a steady stream of booth visitors climbed aboard to get a hands-on feel.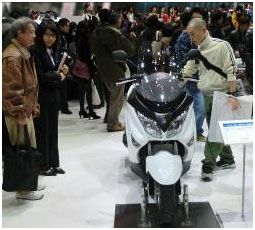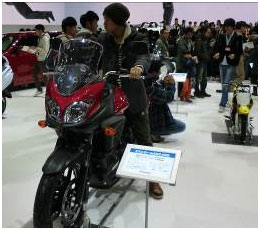 Yamaha
The Yamaha booth theme was "Revs Your Heart." True to that image, the 19 models displayed (including 8 world and 2 Japan premieres) served to energize the minds and emotions of visitors much like revving up the engines of the powerful offerings on hand. The broad-ranging selections spanned electric motorcycles and scooters, 3-wheel commuter, entry-level motorbikes designed for kids, models engineered for assembly by owners themselves and other products that underscore the Yamaha devotion to perennially "expanding mobility."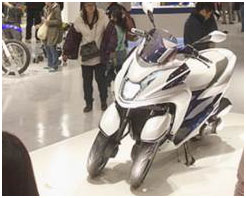 According to Yamaha booth presenters, visitors showed the highest interest in two electric motorcycles (the street sports use PES1 and dirt sports PED1, adopting electric powered units with a monocoque structure doubling as the frame. Both models have undergone repeated test runs and are currently at the commercialization stage. Scenes from that testing were screened at the booth to provide guests with a clearer idea of the process.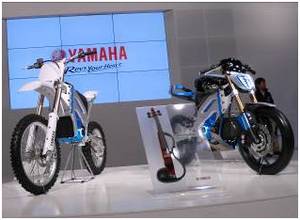 Motorcycle Test Drive Sessions
Motorcycle test drives, a feature begun from the 41st Tokyo Motor Show (2009), were held from November 28 to December 1. Motorcycle licenses were not required to take part, with 1,776 visitors riding motorcycles on the closed course inside the venue with guidance from expert instructors. Six brands were available for these test rides (Honda, Kawasaki, Suzuki, Yamaha, KTM and BMW).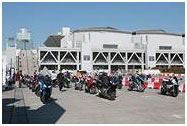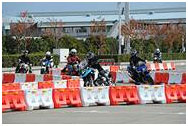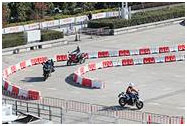 Symposiums and Seminars
A total of 11 related symposiums and seminars were also held at Tokyo Big Sight during the Show's run.
Those events were used to probe the latest trends in development of cutting-edge technology, the outlook for transportation in tomorrow's social fabric, "smart mobility" technology and systems, the extensive range of issues surrounding motor vehicles and other timely topics.
One of these was the Symposium on Preventing Drunk Driving, a gathering sponsored by JAMA on November 28. While overall drunk driving accidents (and those causing fatalities) declined from 26,280 accidents (1,276 fatal accidents) in 2000 to 6,219 (305) in 2008, these figures have leveled off over the years since[1]. In view of this trend, a panel discussion was held in which experts and other intellectuals discussed the prospects for this serious social issue. Attending that session from JAMA was Bunji Atsumi, Chairman of the association's Prevent Drunk Driving Technology Group.
On December 1, Japan's Ministry of Land, Infrastructure, Transport and Tourism sponsored the 14th Automobile Safety Symposium. For this meeting, Nobuhiko Takahashi, Chairman of JAMA Safety & Environmental Technology Committee, delivered a presentation on the latest advances in preventative safety technology.
In addition, targeting an audience of children destined to shoulder the burdens of the next generation, a total of four kid's workshops were convened on Saturdays and Sundays. These events used hands-on experience for enjoyable learning of the problems impacting the global environment and automotive initiatives striving to address such issues.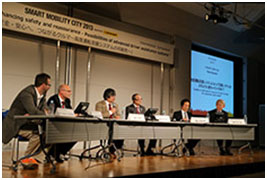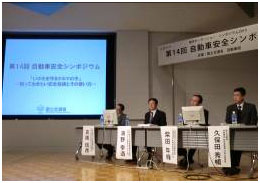 Smart Mobility City 2013
At Smart Mobility City 2013, a sponsored theme event first held at the previous 2011 Tokyo Motor Show, the theme this time around was "Kuruma Networking ~ Vehicles Connecting with Lifestyles and Society." The area featured easy-to-grasp insights into what mobility-friendly cities and other aspects of society will look like in the near future, opportunities to experience personal and ultra-small-size mobility, demonstrations of drive-assist systems and other means of directly acquainting large numbers of visitors with the mobility-friendly city scene already emerging in Japan.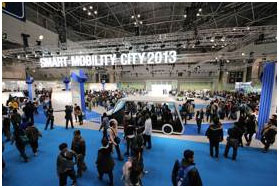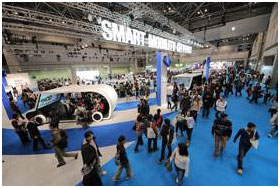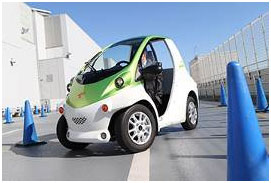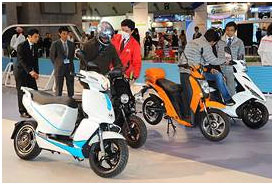 Various other exhibits and happenings were also presented during the Show's run, with a number of large-scale preview events organized to drum up even greater attention and excitement for the latest Tokyo Motor Show in advance.
These efforts paid off handsomely, with the visitor gate during the 10-day run reaching 902,800 persons, a 7% rise over the most recent show in 2011. Surveys tracked guest satisfaction at an outstanding 90.1% (up from 86.3% last time), with the desire to visit the next Tokyo Motor Show expressed by 86.6% of those coming this time (bettering the 82.8% in 2011).
Encouraged by these results, JAMA is confident that the 43rd Tokyo Motor Show was highly successful in conveying the strength and expertise of Japanese manufacturing craftsmanship to audiences in Japan and abroad, further cementing the image of both the "Japan brand" and the "Tokyo brand" near and far.
It has been announced that the 44th Tokyo Motor Show will take place in the fall of 2015 at the same popular venue - Tokyo "Big Sight" International Exhibition Center.